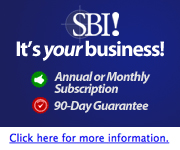 Every day, when having a look at the many forums i visit, i often come across these comments about Site Build It:

SBI is for beginners... SBI is a good place to start... Why pay $300 to host my website... What will SBI do for me that Dreamweaver, Frontpage or any of the other editors won't do... SiteSell controls your domain... It doesn't allow "server-side" functions like forums, advanced shopping carts, and datafeeds...

These, and many others, are all myths. Some of these myths are over 5 years old and no longer true. And some, well, I have no idea where they come from.

I have already posted a Site Build It Review in the past and you can Check Out Their Blog Here, but today i thought of addressing a couple of these myths and explain why they are not true.

Let's get started with the biggest myth of them all...

SBI Is For Beginners

Sure the block-by-block SiteBuilder is, of course, for beginners. It literally does train a "newbie," block-by-block, to build an EFFECTIVE Web page. It makes it easy to build pages that both visitors and Search Engines will love without having to know any HTML or code.

With the "all-tools-in-one-place" approach, people see how SBI! can save them time and money. Tools like Brainstorm It!, Content 2.0, Worldsubmitter, ValueExchange, Site Stats, etc.., are equal if not better than the outside available tools. Buying all those outside tools would cost hundreds more per year than SBI! does.

Once someone is ready (or if they already have the skills) they are free to use Dreamweaver and Photoshop, CSS or any other design method or tools they choose. Whatever your Look and Feel, you CAN do it in SBI!. Just crank up Photoshop and your HTML editor and do it.

SiteSell Controls Your Domain

Domains are totally under the control of the site owner (you can check Whois to see). At the end of the subscription they are always free to transfer the domain they own to another host at no charge if they choose.

Site content is simple HTML that can easily be captured and moved to another host or brought into an editor. There is no more disadvantage to SBI! hosting than anyone would have moving a site from any other web host.

Site Build It is Too Expensive

Too expensive compared to what? If it was possible to really compare apples to apples instead of apples to lemons, there would be no question about the value. Once you see what you get, SBI! would be considered a deal at 10 times the price.

Brainstorm It! uses Wordtracker as its base and then adds even more functionality. Wordtracker is $329 per year. Brainstorm It! is one of dozens of tools included in SBI!.

The SBI Private Forum is worth the annual fee in itself. Every day, 100's and 100's of folks get "personalized coaching" from this unbelievable group of people. People that started, just like you, and are now "paying it forward" because they care about you, about the SBI community and about the SBI product.

Now, i will not go through the whole list of tools and "perks" SBI as in this post, but have a look at this page (once you get there, Click on Tools), it's very impressive and will convince you that it's like nothing you've seen before.

OK, time to put this post to rest. If you ever wanted to know if SBI was for you, i can sincerely say YES. It doesn't matter if you are a very experienced webmaster or a complete newbie. The amount of value you will get with Site Build It is unmatched. Period.

If you liked this post, Subscribe to The Feed...